Watercolor Eagle is Mighty Eagle in the world of colors in Angry Birds Color Adventure
The Power of Watercolor Eagle
The Eagle Watercolor, like all eagles have function to destroy ALL the enemy of a level, being attracted by a fish (in this case Ice Cream Fish).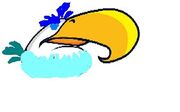 The Watercolor Eagle in the game
In this game Mighty Eagle has its usual appearance. It gets into your body various shades of blue. When he goes destroying all the pigs (Grey Or Enemies) colors make it look like a jet of water.
Ad blocker interference detected!
Wikia is a free-to-use site that makes money from advertising. We have a modified experience for viewers using ad blockers

Wikia is not accessible if you've made further modifications. Remove the custom ad blocker rule(s) and the page will load as expected.