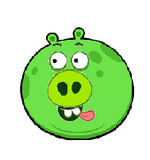 The Angry Birds Seasons 5 episode, "The Suphgania Egg", is the first Jewish holiday episode ever in Angry Birds. It also brought you the new Medium-Large Pig (It is a bit bigger than the Normal Large Pig), and the new suphgania object. (To who doesn't know, a suphgania is a donut with no hole and some jam or chocolate inside it.) "The Suphgania Egg" came out on December 2, 2018.
Theme Song

http://www.youtube.com/watch?v=SRw-oZ_Yg80&feature=player_detailpage (also called sevivonsov sov sov,a famous hanukkah song.)
Birds
Red Bird
Blue Bird
Yellow Bird
Black Bird
White Bird
Terence
Green Bird
Orange Bird
Pink Bird
Pigs
Small Pig
Medium Pig
Large Pig
Fat Pig
Medium-Large Pig (Boss)
Golden Eggs + Menorah
Golden Egg 1-Level 1-6 - Shoot the Pink Bird backward, and get the wood triangle into a bubble. when it pops and crashes, the golden egg will appear in the hole-in-ground under the slingshot. Launch down the pink bird and get the golden egg in a bubble. If you do that, you will get the golden egg.
Golden Menorah - Get 3 stars in any level to unlock this bonus level.
Gallery
Ad blocker interference detected!
Wikia is a free-to-use site that makes money from advertising. We have a modified experience for viewers using ad blockers

Wikia is not accessible if you've made further modifications. Remove the custom ad blocker rule(s) and the page will load as expected.