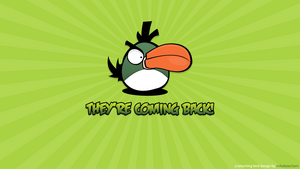 The Mighty Toucan is a bird in the upcoming Angry Birds game
Angry Birds: Revenge of the Pigs
. It is a larger relative of the
Boomerang Bird
and it is bigger than
The Mighty Eagle
--in fact, The Mighty Toucan killed
The Mighty Eagle
!  Its mortal enemies are
King Pig
and Invisa Pig, because no matter how many times he defeats them they keep coming back.  But he keeps coming back too. (Get it? That's his power.) The Mighty Toucan helps the
Angry Birds
, but he only does it because they give him first class bird seed.  His brother is Parabeaks. These are more attributes The Mighty Toucan has:
He can fly, but he has no wings.
He will make his debut in Angry Birds Revenge of the Pigs promo video along with Parabeaks, Invisa Pig, and the Big Brother Bird
The plush version will be the size of a large bean bag, but it will still make noise.
It makes the same sound as The Mighty Eagle .
In Angry Birds Rio, he killed Rafael the Toucan from the movie Rio.
Ad blocker interference detected!
Wikia is a free-to-use site that makes money from advertising. We have a modified experience for viewers using ad blockers

Wikia is not accessible if you've made further modifications. Remove the custom ad blocker rule(s) and the page will load as expected.