Please Don't Edit :) -Funnybone111
The Angry Birds Movie 2 is a 2019 American 3D CGI-animated action-adventure comedy movie adaptation on the Angry Birds series of video games and will be released in theaters in 3D & REAL D 3D, & 2D July 29, 2019. The film is presented by Columbia Pictures and Rovio Animation, CGI-animated at Sony Pictures Imageworks, and financed by Rovio Entertainment. In Finland (Where Angry Birds was originally created), it was distributed by Sony Pictures. It will be released on Digital HD November 26 2019 and Blu-Ray/DVD January 2020.
Synopsis
When everything seems to be going fine in Bird Island a visitor arrives named Silver with her best friend Greg, 10 minutes after that Mighty Eagle's Mountain cracks and splits in half and Bird Island starts to collapse & blaming it on Silver & Greg. Everyone quickly gets on the boat and heads to Piggy Island where Red finds the hidden palace of Birdandia & his Soul mate Princess Rebecca aka Ruby but quickly Leonard finds out about the birds on Bird Island and sends Pigs to go find them and capture the birds...
Cast
Jason Sudeikis - Red
Jessie J - Princess Rebecca (Ruby)
Josh Gad - Chuck
Danny McBride - Bomb
Rebel Wilson - Silver
Jesse Tyler Ferguson - Greg (The Cowboy Pig)
Kate McKinnon - Stella
Bill Hader - Leonard/King Mudbeard
Vincent Tong - King Birdlays ( Ruby's Father)
Tara Strong - Pigs
Sean Penn - Terence
Maya Rudolph - Matilda
Miranda Hart - Widow Twanky (Clown Bird)
Tony Hale - Ross & Mime
Keke Palmer - Sophie
Adam Devine - Bubbles
Noah Schnapp - Jay
Owen Wilder Vaccaro - Jake
Pierce Gagnon - Jim
Peter New - Bird Guard
Willow Johnson - Willow
Tabitha St. Germain - Valerie (Sophie's Friend)
Lauren Faust - Courtney (Sophie's Friend)
Trivia
This marks the first appearance of Silver from Angry Birds 2
Matilda does not appear much throughout the movie but does appear in some major scenes
The Main Flock for the movie includes, Red, Chuck, Bomb, Silver & Greg then they will add Ruby & King Birdlays
Gallery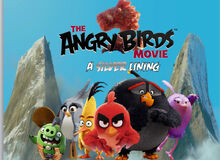 Ad blocker interference detected!
Wikia is a free-to-use site that makes money from advertising. We have a modified experience for viewers using ad blockers

Wikia is not accessible if you've made further modifications. Remove the custom ad blocker rule(s) and the page will load as expected.