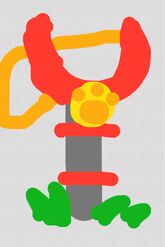 It redeems "178 to 200" miles away. It goes super speed up. If you use Yellow Bird and the sling, it might be mega fast. The Mega Seeds use work in Angry Birds Epic 4.
More zapping on the Zappetizer to other birds of puffles means non stop crashing, or non stop smashing over 60 miles more.

If it spots to pigs, they become Time Kisser Pigs to birds.
Ad blocker interference detected!
Wikia is a free-to-use site that makes money from advertising. We have a modified experience for viewers using ad blockers

Wikia is not accessible if you've made further modifications. Remove the custom ad blocker rule(s) and the page will load as expected.