Skunkbird
General Info
Powers
Releases a cloud of stench
First Level Appearance:
Angry Birds Space
Gender:
Male
Species:
50% Skunk and 50% Bird
Locations:
Angry Birds Space
Strength:
Medium
Size:
Medium
Skunkbird is a bird featured in Angry Birds Space. When tapped/clicked the Skunk Bird will get a boost and releases a cloud of stench which desintgrates Wood and Glass. If the stench gets into pigs air supplie they will die. The pigs can't stand his smell.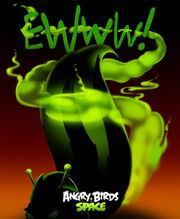 Ad blocker interference detected!
Wikia is a free-to-use site that makes money from advertising. We have a modified experience for viewers using ad blockers

Wikia is not accessible if you've made further modifications. Remove the custom ad blocker rule(s) and the page will load as expected.