SHabib the red bird is leader of all birds.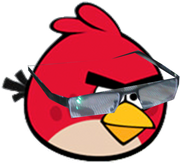 Personal Data:
Name:Muhammad Shabib Shahid
Aliases: Red,Glass red
Love Interest: Ruby
Likes: Angry birds, Minecraft , Trackmania, Bad piggies(Game), Updating Angry birds, Creating fan character.
Dislikes: Bad pigs, Repainter festival, Repaint, Goggle birds(Only Lewis),Lewis' Piggy Language,Poachers, Poacher-piggies,Thief birds, Criminal birds, Robber birds, Sh!t BIrd, B.N.P Birds/Humans, Jamayatshibir BIrds/Humans, Police pigs,Goggles(Except Flammable,poppy,rose,Autumn,henrietta,Henry,Banger,Eddie,Stoney's GOggles)
Confused: Newsboy Cap, Threaten
Classmates: Sifat the blue bird, Bidduth the riochet bird, Prottoy The Super-BOy  Good pig/Bird, Ankon the good piggy
Best friends: Sifat the blue bird, Tyler the Robotic Inflater Bird, Gabriel The Robot(In prequel Trilogy, Gabriel Is traitor for Noise), Matrix,Misty,Samantha The Red pokladot Bow Pink bird.
Enemies: Bibsha , Tro, Fireworks dave, Fireworker, Entexo, Marty the kidnapper, Kotsaw
COuntry: Bangladesh
Trivia:
he hates police pigs, but Prottoy is police bird/pig roleplay. So he does not hates prottoy.
in the Teaser,animation and photos, he Does not wear glasses. but in the comics, He Wears glasses
NOTE: IF ANYONE EDITS THIS PAGE, I'LL BLOCK THEM.
Ad blocker interference detected!
Wikia is a free-to-use site that makes money from advertising. We have a modified experience for viewers using ad blockers

Wikia is not accessible if you've made further modifications. Remove the custom ad blocker rule(s) and the page will load as expected.