Sakagami is a fairy mascot from 
Angry Birds Pounce Fest
.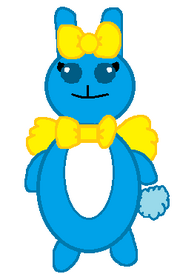 About Sakagami
Sakagami is Samantha's fairy mascot. She has an unknown reason why she has a phobia of pigs without thinking that the pigs steal the birds' eggs because she thinks that the pigs are trying to eat her because she's too small to defeat the pigs.
Sakagami's shyness is seems unknown when she sees Castina's fairy mascot named Kono-Chan. When Kono has a crush on Sakagami and tries to kiss her, she will run or jump away until Kono fells into the ground and he doesn't notice that she was gone.
 Appearance
She looks like a rabbit/bunny. She has small yellow wings. she wears a yellow bow on her head, she has a yellow bowtie on her chest, she has a white belly and a blue fur.
Trivia
Much like the Sparkle Flock's fairy mascots. (Who have Japanese names) She and the other mascots don't speak in Japanese either.
Ad blocker interference detected!
Wikia is a free-to-use site that makes money from advertising. We have a modified experience for viewers using ad blockers

Wikia is not accessible if you've made further modifications. Remove the custom ad blocker rule(s) and the page will load as expected.