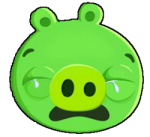 This article has been picked to go in the new wiki, Angry Birds Fanon Central!
Sad Pig is a pig who is almost always sad. Nobody knows why he is always so sad, but Rovio said that he had "a horrible backstory that would make you cry." Thankfully, he is always cheered up when he has a few sweets, such as cake and candy (pie is his favorite). Rovio officially confirmed Sad Pig won't appear in any game and stay as a background character.
Ad blocker interference detected!
Wikia is a free-to-use site that makes money from advertising. We have a modified experience for viewers using ad blockers

Wikia is not accessible if you've made further modifications. Remove the custom ad blocker rule(s) and the page will load as expected.