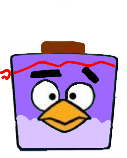 Rx2 Bird is a bird, obviously, that has many different powers in many different games.
Infos n' Such
AB:MP?!: Drives Scooter into buildings.
ABSp:EMP?!: Shakes things, like Blu in Rio.
ABF (Possibly): Explodes, cloning materials, objects and pigs into 2.
Trivia
Rx2 Bird is based on the YouTuber, Sackboy528, which trolls on an MMORPG called ROBLOX.

Speaking of ROBLOX, his sprite is based on the weapon Decoy Deploy.

Scooter is based on the Ro-Ped.
Ad blocker interference detected!
Wikia is a free-to-use site that makes money from advertising. We have a modified experience for viewers using ad blockers

Wikia is not accessible if you've made further modifications. Remove the custom ad blocker rule(s) and the page will load as expected.