This article's quality is low, but not low enough to be deleted. Please help clean this page up by correcting errors.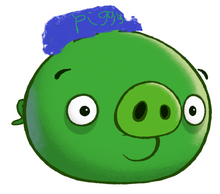 run minions one is the first episode in pigs army it has an exclusive birds called swift birds . you play as the pigs in this
List Of Birds :    
red - 10 hits to take your pigs out  
chuck - 5 hits to take your pigs out  
the blues - 15 hits to take yuor pigs out 
bomb -2 hits to take your birds out  
Big brother birds ( boss battle ) - really slow if hit you are 1 hit ko'ed
sweet bird - 6 hits to take your birds out 
Pigs 
cap  pig - free costume 
corpal pig - hidden in level 2 
mustache pig - get him for beating the last level of run minions run  
Ad blocker interference detected!
Wikia is a free-to-use site that makes money from advertising. We have a modified experience for viewers using ad blockers

Wikia is not accessible if you've made further modifications. Remove the custom ad blocker rule(s) and the page will load as expected.