What's one of the best parts of a slumber party? Makeovers! Get ready to imagine makeup and dress-up fun with this My Little Pony Equestria Girls Minis Rarity Slumber Party Beauty Set. Imagine Rarity giving her friends great advice and sharing beauty secrets at a slumber party with this set, which includes a vanity with makeup and hairstyling accessories! This cute, poseable mini-doll also comes with her cute kitty figure. 
Gallery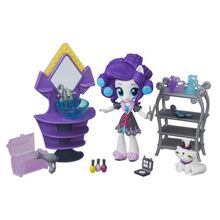 Ad blocker interference detected!
Wikia is a free-to-use site that makes money from advertising. We have a modified experience for viewers using ad blockers

Wikia is not accessible if you've made further modifications. Remove the custom ad blocker rule(s) and the page will load as expected.