Rainbow Chuck is the original Chuck when it was sucked into the portal that brought him to the world of colors with your friends in 
Angry Birds Color Adventure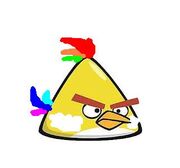 Rainbow Chuck Powers
Rainbow Chuck, besides having its original power speed, uses a rainbow tail, which it does, it accelerates, moving from top to bottom (aereos make moves like a dragon). When you arrive in Green Canyon, Rainbow chuck receives a special power, besides accelerate and move differently, he gets a power lights, spinning around like a disco ball
The Rainbow Chuck in game
Rainbow Chuck, his face has the usual appearance. The difference is that it has the colors of the rainbow (except yellow, which is its original color) in the hair and tail. Also has two tattoos on her cheeks clouds.
Ad blocker interference detected!
Wikia is a free-to-use site that makes money from advertising. We have a modified experience for viewers using ad blockers

Wikia is not accessible if you've made further modifications. Remove the custom ad blocker rule(s) and the page will load as expected.