| | | |
| --- | --- | --- |
| | This article has been picked to go in the new wiki, Angry Birds Fanon Central! | |
The
Purple Bird
is a bird that appears in
Angry Birds: Mutated Birds
,
Angry Birds Fritos
,
Angry Birds Space 2 (Angry3456)
and
Sad Birds
. His power is to loop in circles several times, and he is good against wood and glass, but not much effective on stone. In Angry Birds: Mutated Birds, he antidoted Chuck. His frozen yogurt flavor in
Angry Birds Sweets
is Wildberry. He also appears in
Angry Birds GO! 2
with his Loop Runner Kart and is difficult to recruit him.
Purple Bird (Angry3456)
General Info
Powers
To loop in circles several times
First Level Appearance:
AB Fritos 3-7
Gender:
Male
Species:
Unknown
Locations:
Many
Strength:
medium
Size:
medium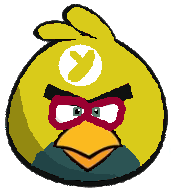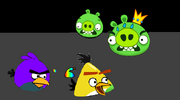 Appearance
He looks like the Red Bird, but with purple feathers, a forest green belly and dark green eyes. He also has the same beak as Terence does. In Space, he looks the same, but with yellow feathers, a "Y" sign, and a red mask.
Trivia
Despite his appearance, he is very intelligent, more intelligent than all the other birds. He has also teached most of the birds in school.