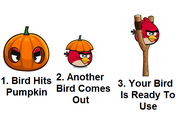 The Pumpkin is an item found in structures in Halloween levels, and
Angry Birds Extreme
. A bird is hiding in the pumpkin. When the pumpkin is broken, the bird comes out and can be used.
Birds that can be hiding in pumpkin
Common
Red Bird
Blue Bird
Yellow Bird
Black Bird
White Bird
Boomerang Bird
Orange Bird
Pink Bird
Ice Bird
Relatively rare
Rare
Add birds!
Ad blocker interference detected!
Wikia is a free-to-use site that makes money from advertising. We have a modified experience for viewers using ad blockers

Wikia is not accessible if you've made further modifications. Remove the custom ad blocker rule(s) and the page will load as expected.