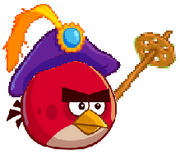 Prince Bird is the 8th bird in Angry Birds Medieval Times.
Ability
---
When you tap, Prince Bird will summon a Bird Army of Knight Birds. The Knight Birds will destroy the bottom of the structure.
Trivia
---
The Leader Knight is the largest of the army, he can break stone.
Sometimes Knight Birds can stumble while still running.
There is a 5-percent chance the Leader Knight can Stumble, making it harder to destroy stone.
Prince Bird wears Prince Porky's Hat.
This is similar to Call the Flock.
He, along with Peasant Bird and Knight Bird are played as Red
Feel free to edit this if you like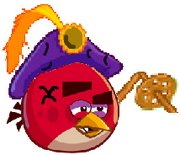 Ad blocker interference detected!
Wikia is a free-to-use site that makes money from advertising. We have a modified experience for viewers using ad blockers

Wikia is not accessible if you've made further modifications. Remove the custom ad blocker rule(s) and the page will load as expected.