In the
Angry Birds House
,the
President of the Angry Birds
is a person who lives in the house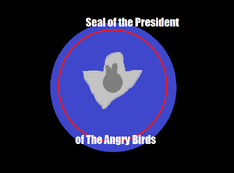 Presidents
1.Red Sr.
2.Chuck Jr.
3.Corporal Pig I
4.Master Pig (squished and flung by Red before Master Pig took office)
5.Ultra Master Pig (fled after winning)
6.Ultron Pig (Rejected after a Las Redgas rule told him that no robot pigs will be President)
7.Red
8.Chuck
9.Matt Tilda
10.Bomb
Ad blocker interference detected!
Wikia is a free-to-use site that makes money from advertising. We have a modified experience for viewers using ad blockers

Wikia is not accessible if you've made further modifications. Remove the custom ad blocker rule(s) and the page will load as expected.