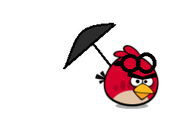 The Parasol Goggle Bird Is the Son of Goggles, the Boss Goggle Bird. He is First Mentioned In Angry Birds 7: Family Hazard. When Launched, His Umbrella is closed, But When you tap the screen or click, he Turns Black And Opens The Parasol. He gently drifts straight down. after landing on the structure, He Explodes. He is Based on The Parachute Bomb in Crush The Castle 2. He is Called Perry Sol
Ad blocker interference detected!
Wikia is a free-to-use site that makes money from advertising. We have a modified experience for viewers using ad blockers

Wikia is not accessible if you've made further modifications. Remove the custom ad blocker rule(s) and the page will load as expected.