This article is or has been featured on the Wiki Navigation.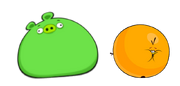 The Obese Pig is a very powerful pig. If you hit its ginormous stomach, the bird shall bounce off, dealing only a very tiny amount of damage to the pig. However, its top takes twice the normal damage.
This pig appears in
Angry Birds Space: Utopia 2
, being almost as strong as the King Pig (His strength is 96/100, the king pig's strength is 100/100). Obese Pig also appears in
Angry Birds Seasons 5
in
Snow of the snorkers
, starting from level 1-4.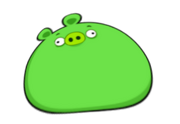 He also appears in Angry Birds TNT as a boss. Obese Pig will wear the King Pig's crown, making some think he's a giant King Pig in this state. He is in Angry Birds Generations. Obese Pig is also in the game Angry Birds 1 ½