This Episode is The 13th Episode in Angry birds released on November 4 2013. This Episode will have 84 Levels in 4 Themes.Theme 30,31,32 and 33.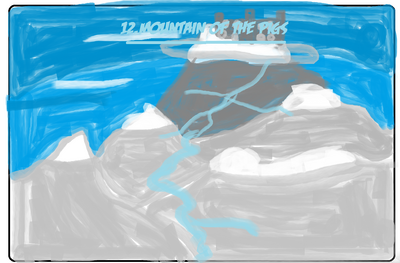 Story
As the eggs are gone again,Pigs were rushing and running to the mountains.
The birds started revenging again.In 30-1,The level introduces a new type of Level "Vehicle travelling".In this level,You have to build a ship to go to the correct place that pigs got to.But the birds dont know what place it is.So they travelled in the Day.After getting to the Correct landing site,The birds fell asleep because they are so tired.In the forest,They built a Wooden home made by Alpine trees and slept inside.
Next morning,They are introduced to Ice bird in the forest.In 30-2,The Ice bird instructions is introduced.The Ice bird freezes structures in the area that he touched but he will explode into ice gases.The Ice bird also kill pigs that do not have cold protecting clothes.Even when they have those clothes,They will freeze but they will not Die.In here,Moving pigs are introduced.These pigs move when they are gonna be killed and they stop when they touch icewater,Snow or Ice bird.Fire is also introduced.Fire makes Ice birds to melt.Causing them to die.Bomb in fire causes him to explode but the explosion is more powerful than the normal.In this new update,After Bomb's explosion,He goes to his corpse form instead of kamikaze.Because he releases energy from his body and stop generating it again.After completing 30-10,Red gains are new power to slash enemies by his Sword.After 30-10,Foreman pig is delivered to the Castle by the Minion pigs because he is sick.In 30-11,The level introduces Avalanches.These avalanches have snowballs that hurts all birds even pigs too.If bomb hits this,He stops exploding.If Ice bird hits this,His Freezing power will be more powerful.It also introduces Small stoneball avalanches.These balls hurt all birds and even pigs and structures.After 30-21,Winter pig will suffer to the sky,causing her to be more powerful.
In 31-1,It is sunset.They came into the Peaks of the small hills.i 
Levels
Theme 30
30-1
30-2
30-3
30-4
30-5
30-6
30-7
30-8
30-9
30-10(Boss:Foreman Pig)
30-11
30-12
30-13
30-14
30-15
30-16
30-17
30-18
30-19 
30-20
30-21(Boss:Winter pig)
Level Terrain
The Terrain is On mountains.It has a Bumpy Slope to the Left and A Irregular Rectangle that is bumpy is for the Slingshot.Some Levels Have a slingshot with on the ground of the Slope like Level 34-5 and 32-8.
Weather Effects
The Weather is set as snow.All Levels in this episode has Snow and Snowballs Exept theme 34 Theme 34  has no snow.Just Rock.and hot weather and the Sun is Shown.
Ad blocker interference detected!
Wikia is a free-to-use site that makes money from advertising. We have a modified experience for viewers using ad blockers

Wikia is not accessible if you've made further modifications. Remove the custom ad blocker rule(s) and the page will load as expected.