Mother Bird
General Info
Powers
Unknown
First Level Appearance:
Unplayable
Gender:
Female
Species:
Unknown
Locations:
Unplayable
Strength:
Unknown
Size:
Unknown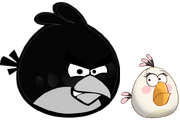 Mother Bird is the mother of all the birds. She is currently unplayable.
Children (in order of birth)
Mighty Eagle
Mighty Dragon
Terence
Matilda
Red
Chet
Bomb
Hockey Bird
Chuck
Hal
Stella
Bubbles
Blue Jay
Blue Jake
Blue Jim
Mighty Tiny
Golden Gale
Add birds! Make sure they are in order of birth.
Ad blocker interference detected!
Wikia is a free-to-use site that makes money from advertising. We have a modified experience for viewers using ad blockers

Wikia is not accessible if you've made further modifications. Remove the custom ad blocker rule(s) and the page will load as expected.