Mother Bird
General Info
Powers
Unknown
First Level Appearance:
Unplayable
Gender:
Female
Species:
Unknown
Locations:
Unplayable
Strength:
Unknown
Size:
Huge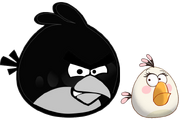 Mother Bird is the mother of all the birds, and the widow of Father Bird. She is currently unplayable.
Children (in order of birth)
Mighty Eagle
Mighty Dragon
Terence
Matilda
Red
Chet
Bomb
Hockey Bird
Chuck
Flappy
Hal
Stella
Bubbles
Blue Jay
Blue Jake
Blue Jim
Cyan Marc
Cyan Maykolt
Cyan Marcus
Cyan Morrisey
Cyan Maurice
Cyan Mel
Cyan Moctezuma
Cyan Merlin
Cyan Miller 
Golden Gale
Add birds! Make sure they are in order of birth.
Trivia
Mother Bird has a strong resemblance to Matilda.