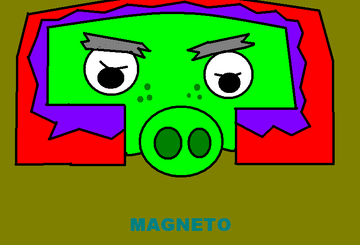 Magneto (or Erik Porkshter) is a mutant who can move metal objects around. He is the leader of the Bacon of Evil Piggies. In-game he can move your birds away. The only way to attack him is too use a distance attack.
Trivia
In a cutscene, he is shown moving a piece of stone, he can only move metal.
Rovio is thinking of incorporating Magneto into a playable character.
Ad blocker interference detected!
Wikia is a free-to-use site that makes money from advertising. We have a modified experience for viewers using ad blockers

Wikia is not accessible if you've made further modifications. Remove the custom ad blocker rule(s) and the page will load as expected.