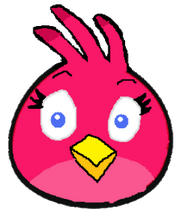 This article has been picked to go in the new wiki, Angry Birds Fanon Central!
Magenta Bird
is a female magenta-colored bird. She is like Stella, but blows 5 bubbles and causes much more damage to wood and glass. Her real name is Maflintie, and appears in
Angry Birds Fritos
.
Trivia
She is the first female bird made by Angry3456.
She is friends with Stella, but is unknown why she does not appear in Angry Birds Stella.