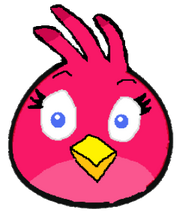 This article has been picked to go in the new wiki, Angry Birds Fanon Central!
Magenta Bird
is a female magenta-colored bird. She is like Stella, but blows 5 bubbles and causes much more damage to wood and glass. Her real name is Maflintie, and appears in
Angry Birds Fritos
.
Trivia
She is the first female bird made by Angry3456.
She is friends with Stella, but is unknown why she does not appear in Angry Birds Stella.
Ad blocker interference detected!
Wikia is a free-to-use site that makes money from advertising. We have a modified experience for viewers using ad blockers

Wikia is not accessible if you've made further modifications. Remove the custom ad blocker rule(s) and the page will load as expected.