Leader Banshee is a Boss in Angry Birds Epic 5 (a new upcoming game made by Waluigiw99)
Name: Leader Banshee
Health: 4575
Attack #1: Out The Window: Deals 100 damage. target also deals 100 damage, healing this pig for 100 health.
Attack #2: Scary Hoard: 2 turns, summons Banshee allies.
Attack #3: Undead: Revives 2 turns after being knocked out.
Leader Banshee is a larger version of a banshee, only with different move set.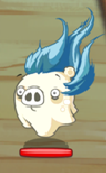 Ad blocker interference detected!
Wikia is a free-to-use site that makes money from advertising. We have a modified experience for viewers using ad blockers

Wikia is not accessible if you've made further modifications. Remove the custom ad blocker rule(s) and the page will load as expected.