The laser pig is a pig that has different eyes, he shoots lasers that can pass through everything that touches, it shoots its laser at a direction of a bird that is in the air, the hiten bird will knocked and lose its special ability/strenght. In angry pigs/king pig level he shoots lasers that can pass through it touches, just like when it's an enemy, and he can take down any hited bird.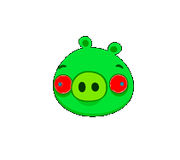 Ad blocker interference detected!
Wikia is a free-to-use site that makes money from advertising. We have a modified experience for viewers using ad blockers

Wikia is not accessible if you've made further modifications. Remove the custom ad blocker rule(s) and the page will load as expected.