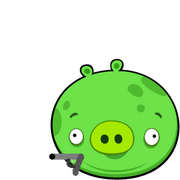 Gun pig is a fat pig, but it is twice as strong as it, he also carries gun.
The pig and it gun powers.
This pig never stays in the stays under something other. It can stays on it, but never under. It doesn`t want to be near blocks, because this blocks its aiming. He shoots at birds, which can affect a bird. If a power of a bird weren`t used and it were hitten, this disables your bird powers and of the other birds. But if he shoots egg bomb or bomb bird it makes twice as their normal explosion.
Ad blocker interference detected!
Wikia is a free-to-use site that makes money from advertising. We have a modified experience for viewers using ad blockers

Wikia is not accessible if you've made further modifications. Remove the custom ad blocker rule(s) and the page will load as expected.