This article has been picked to go in the new wiki, Angry Birds Fanon Central!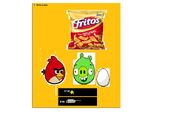 Frito Land is the first episode in the new game, Angry Birds Fritos. It sets in Frito Land, a magical place where all the fritos come from. It consists of 40 levels, which were released on November 19, 2013. There are 25 levels in this chapter on the PC version, released on December 11, 2013.
Birds
Pigs
Small Pig (appears on 1-1)
Medium Pig (appears on 1-2)
Large Pig (appears on 1-3)
Corporal Pig (appears on 1-15)
Foreman Pig (appears on 1-29)
King Pig (appears on 1-40)
Ad blocker interference detected!
Wikia is a free-to-use site that makes money from advertising. We have a modified experience for viewers using ad blockers

Wikia is not accessible if you've made further modifications. Remove the custom ad blocker rule(s) and the page will load as expected.