Fire Bird can blast the fire out of its beak, and it first appears in Angry Birds Wrath of the King Pig 3-2-10. This bird is best against wood, glass, ice and sand, but weak against steel and plastic.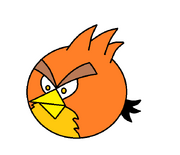 The newest Brown Fire Bird can burn down the wood and make it very weak, like the Ice Bird in Angry Birds Space, as in the instructions of the Brown Fire Bird. The Brown Fire Bird is a slightly bigger version of the Blue Birds, but is brown, has yellow cheeks and can be set on fire at the tap of the screen. He appears at Angry Birds: World since Polar Birds episode. He is weak against stone, wood and plastic.
Ad blocker interference detected!
Wikia is a free-to-use site that makes money from advertising. We have a modified experience for viewers using ad blockers

Wikia is not accessible if you've made further modifications. Remove the custom ad blocker rule(s) and the page will load as expected.