Fire Bird can blast the fire out of it's mouth it first appears in Angry Birds Wrath of the King Pig 3-2-10.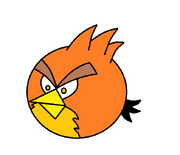 The newest Brown Fire Bird can burn down the wood and make it very weak, like the Ice Bird in Angry Birds Space, as you can see in the instructions of the Brown Fire Bird. The Brown Fire Bird is a slightly bigger version of the blue bird, but is Brown and can be set on fire at the tap of the screen. He appears at Angry Birds: World since Polar Birds episode.
This Bird is Weak Agasint stone, wood, And plastic.
Fire Is Best Against wood ,glass ,Ice ,And Sand.
Fire Weak Aganist steel and Plastic