Easter Pig it's a pig witch pink easter bunny ears.He appears in some easter comericals,videos or even some Toons episodes.
Personality
He's silly like the other minion pigs,as he are not much evil.He try make a happy easter to the birds or the pigs as the result it's everytime the same:He got brutaly beaten!
Trivia
It's formerly strange as he as just a minion pig,and don't pay antention on the eggs.But as seen in a video,he try to eat the eggs.May he just do not have time to do this.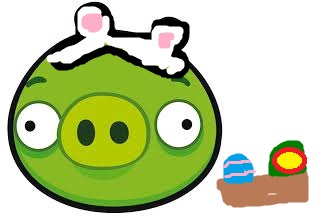 Ad blocker interference detected!
Wikia is a free-to-use site that makes money from advertising. We have a modified experience for viewers using ad blockers

Wikia is not accessible if you've made further modifications. Remove the custom ad blocker rule(s) and the page will load as expected.