| | | |
| --- | --- | --- |
| | This article has been picked to go in the new wiki, Angry Birds Fanon Central! | |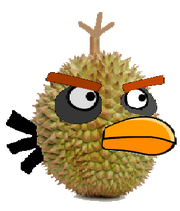 Durian Bird is a rare food bird like Frito Bird. His full name is Durianagoah "Durian" Xavrien Walters. His power is to dig forward 1/2 the speed of Chuck speeding up. He is good on glass, wood and stone, but can only break two blocks of stone at one time.
Appearance
He looks a durian with red eyebrows, gray undereyes, and a long beak. He also has feathers on top of his antenna and a tail on the back.
Trivia
He may be related to Doomspike Bird.
He is based on durian, a fruit only found in tropical Asia (Thailand, Indonesia, Philippines, etc.).