If youre looking for the user, see Dion Happy

Dion is a bird who looses his feathers and he needs to cover himself up with purple cotton. He appeared in ANGRY BIRDS(rebooted version) as Green Bird because in that game, he hasn't loose his feathers, yet. He also appeared in Angry Birds New Chapter.
First
He lost his feathers after going to the danger room because the danger room has many scare and it makes the feathers' roots bursts making his feathers not growing back forever. So, Red pours Magic Foam to make cotton for Dion to cover himself up.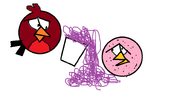 Note
He is part of a special flock called The Big Feathers
Ad blocker interference detected!
Wikia is a free-to-use site that makes money from advertising. We have a modified experience for viewers using ad blockers

Wikia is not accessible if you've made further modifications. Remove the custom ad blocker rule(s) and the page will load as expected.