Demon bird is original to boomerang bird and is just like a halloween bird,He can put fires to burn a structure!
Profile:
Size:Medium
Strongness:73%Fire damage
Similarities:Red devil bird and Boomerang bird.
Sounds:Boomerang bird and terence(Only if it puts fire.)
Abilities:Putting a fire
Corpse:Yes
Beak:Yes
Shape:Polygon
Picture: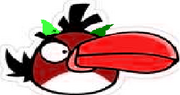 Color:Red
Best friends:Zed from Miniclip and Red devil bird.
Transformation:Outfitting in his house.
Ad blocker interference detected!
Wikia is a free-to-use site that makes money from advertising. We have a modified experience for viewers using ad blockers

Wikia is not accessible if you've made further modifications. Remove the custom ad blocker rule(s) and the page will load as expected.