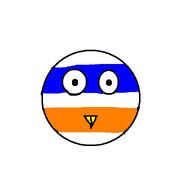 Complementary-Striped Bird

Power

Same as Orange Space Bird, except he doesn't inflate.

Gender

Male

Species

Hybrid of Oriole and Bluebird

Brothers

An Orange Bird, a Blue Bird

Age

Newborn

Debut

Angry Birds 3000
Links
About
Complementary-Striped Bird is unusually smart for his age, yet somewhat naive. He comes from Georgia, an island near the island of the Angry Birds. As orioles are rare in Georgia, his kind is treasured there.
…just kidding. He's a bird. That's it. He might die soon.
Ad blocker interference detected!
Wikia is a free-to-use site that makes money from advertising. We have a modified experience for viewers using ad blockers

Wikia is not accessible if you've made further modifications. Remove the custom ad blocker rule(s) and the page will load as expected.