Captain Blue is Blue bird playing the role of hero Captain America in
Angry Birds: Avengers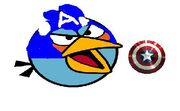 Captain Blue in the game
The Captain Blue wears a blue helmet with a letter A. He also has a shield that uses to defend itself.
He has the ability to split into three, and use your shield to defend yourself from gunfire, bombs, and other obstacles.
Ad blocker interference detected!
Wikia is a free-to-use site that makes money from advertising. We have a modified experience for viewers using ad blockers

Wikia is not accessible if you've made further modifications. Remove the custom ad blocker rule(s) and the page will load as expected.