Bloopa bird is quite smaller than
Sowcho Bird
. His powers are stronger than any other bird. He uses to attack all pigs per level. He can attack smashing use to attack
Obese Pig
or
Supermassive Pig
. Each pig will explode until the bloops had explode through the pigs. It destroys more like
Supermassive Bird
stronger but better. He has gravity to do all of the powers of all birds, or a bird that is nearby him on a level, he starts to get the powers from the bird. Or, he would change color.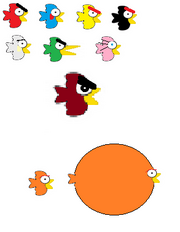 990 bigger powers larger to Orange Bird, plus trade in winning three stars per piggy, the bird would free out next time when he did after he reminded up to sextillions of powers he used for pharanced good job to the ripples and blasts to kill pigs.
Red bird is not dived out after if it was not yet, he chirps.
600000000000000000000000000000000000000000000000000000000000000000000000000000 points can overload your score, Maybe Cheeks cant make it, unless she dosent, Like you, were not. Gurdying or Time Dating is bad for her birds. So its not drumming rodel or the system has a problem that biggest pigs wouldn't come.
Ad blocker interference detected!
Wikia is a free-to-use site that makes money from advertising. We have a modified experience for viewers using ad blockers

Wikia is not accessible if you've made further modifications. Remove the custom ad blocker rule(s) and the page will load as expected.