Beyond Nature by Rovio is a game created by Rovio Entertainment Ltd. The tile was based on the restaurant called Beyond Veggie by Secret Recipe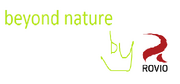 Story
The pigs stole their eggs although Piggy Island turns into Vegetarian Land. The veggie birds have to retrieve their eggs back before they eat it!
Birds
Tomato Bird(Red)- Targets at pigs
Bean Birds(Blues- Splits into 3
Potato Bird(Chuck)- Speeds up
Pruple Cabbage Bird(Bomb)- Explodes
Turnip Bird(Matilda)- Drops a turnip bomb
Gourd Bird(Hal)- Acts as a boomerang
Big Tomato Bird(Terence)- Moans
Carrot Bird(Bubbles)- Inflates
Shallot Bird(Stella)- Blows onion bubbles
Frozen Veggie Bird(Ice)- Freezes
Pigs
Small Pig
Medium Pig
Large Pig
Helmet Pig
Mustache Pig
King Pig
Fat Pig
Episodes
No Stealing Eggs
Not-so-good Hoaxes
Carrot Land
Garden
Eat Veggies!
Ending
The birds retrieve their eggs and the pigs seems to starve. So, the birds give them veggies and forced them to eat it. Then, the pigs became vegetarians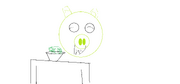 Info
Developers: Rovio Entertainment Ltd., Blue Sky Studios, Fox Digital Entertainment
(they are the developers of Angry Birds Rio)
Published by: Rovio Entertainment Ltd.
Ad blocker interference detected!
Wikia is a free-to-use site that makes money from advertising. We have a modified experience for viewers using ad blockers

Wikia is not accessible if you've made further modifications. Remove the custom ad blocker rule(s) and the page will load as expected.