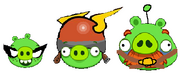 Bad Piggies: Cosmic Piggies In Space
is yet another game made by Angry3456, the fourth one actually. The pigs go in space and build carts and wooden cars to find the finish line. Unlike Bad Piggies, you can play as multiple pigs. It came out on March 17, 2014, on St. Patrick's.
Characters
Super Freckled Pig (Classic Freckled Pig) first use on 1-1
Lightning Corporal Pig (Classic Helmet/Corporal Pig) first use on 1-16
Atom Foreman Pig (Classic Moustache/Foreman Pig)
Episodes
Bumpy Road
Furious Volcanoes (released May 24, 2014)
Water Planet (released July 31, 2014)
Silver Pork (bonus levels)
More coming soon!
Trivia
It will be unknown when you use King Pig. Probably in the second or third episode which is unknown.
Ad blocker interference detected!
Wikia is a free-to-use site that makes money from advertising. We have a modified experience for viewers using ad blockers

Wikia is not accessible if you've made further modifications. Remove the custom ad blocker rule(s) and the page will load as expected.