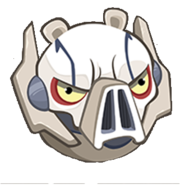 Hello there tired of waiting after you play angry birds star wars go! But here your are the game is angry birds star wars 2 go. You could select unlocked character. the final boss is General grunter in a last level UTAPAU! But play as obi wan kabommi in level 5. So buy it. It costes free. BUY NOW!
characters
Quail gon-his starfighter
Obi wan-mighty boga
General grunter-wheel bike
Jango fatt-slave 1
Boba fatt- slave 1
Count dodo- the invisible hand
levels
1. Naboo
2. coursant
3. Kamino
4. The invisible hand
5. Utapau
Ad blocker interference detected!
Wikia is a free-to-use site that makes money from advertising. We have a modified experience for viewers using ad blockers

Wikia is not accessible if you've made further modifications. Remove the custom ad blocker rule(s) and the page will load as expected.