Story
"They hatched into the wrong hands…"
Angry birds 3
765 × 554px
Main image

Developers

Rovio & Activison

Release date

2 may 2016

Platforms

Ps3,Ps4,X360,XONE,PSVITA,APPLE,SAMSUNG,PC
Angrybirds 3 is set on the egg triplet's bday. The egg triplets
are Reddy, Rosa & Speedy. The flock was having a great time til the pig army came & kidnapped the egg triplets. The Bird squad had to get them back before the pigs eat chicken for dinner...
Bird squad
The bird squad is basically another flock.
The members of the Bird squad are Red, Chuck, Bomb, Stella, Silver, Howell [Hal], Reddy, Rosa & Speedy
Gameplay
Cards are back.
Returning birds from the bird squad have brand new powers!
Powers
All 8 members of the bird squad get a special power here theyre listed
Red: While launching tap Red to summon the blues to help out
Stella: Tap Stella to transform her self into a bubble to bounce around areas
Silver: While ready to launch tap Silver to teleport to a location
Chuck: Tap chuck while in the air to go 3x as fast
Howell: Tap to take a big bite out of a pig!
Reddy: Makes a Cuteness wave when taped at
Rosa: Explodes into cuteness bubbles when tapped
Speedy: Tap to go 2x as fast as any other bird as well 2x damage!
Bomb
Bomb is now an upgrade if you purchase him he blows up every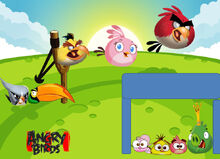 single pig & makes you pass the level with 3 stars!
Ad blocker interference detected!
Wikia is a free-to-use site that makes money from advertising. We have a modified experience for viewers using ad blockers

Wikia is not accessible if you've made further modifications. Remove the custom ad blocker rule(s) and the page will load as expected.