Poster
Gameplay
The Controls Use as Mouse(Exept IPhone/Pad/Pod is Directions).Some Missions Use Arrow keys/Directions As their Drive and Some Missions Are Adventure and Some missions Are Exploring caverns and Some missions are Building and Some missions are Chasing and Some Missions are With Time. (Types of levels.:Drive,Adventure,Exploration,Build,Chasing and Timed.)Every Mission has Medals gained by higher Score,Early Time and High Stability.(Medals are:Bronze,Jade,Stone,Silver,Gold,Platinum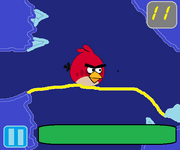 and Titanium.)If You are out of Time or Energy,You Fail The Mission.
Stats
Release Date:June 14,2013(Pc/Mac/Linux)
June 21,2013(IPod/Pad/Phone)
July 26,2013(Ps2/Ps3)
August 10,2013(Xbox/Psp)
Free and Full:Yes
Free:Free To Download
Full:350 Game Points/$1.99
Missions:65 Missions
Birds
Explorer Bird(Red)-Have Backpack.
Builder Bird(Al)-Have all Building Tools.
Telescoper Bird(Chuck)-Have Telescope(For Eyes and Ground).
Reporter Bird(Bubbles)-Reports to Terence.
Maintenance Bird(Bomb)-Useful For Repairing and Digging.
Breaker Bird(Blues(1 to work but 3 Total))-Breaks weak ice.
Follower Bird(Ice)-Follows the walk to birds exept Terence.
Conducter Bird(Terence)-Saw reports.
Enemies
Killer Whale-Medium Strength,Long,Short.
Volcanic Ash-Very Strong,Flowing,Gas.
Volcanic Lava-Very Strong,Flowing,Liquid(Viscous)
Falling Ice-Weak,Tall-Short,Slim-Thick,Solid.
Boulders-Strong,Some falling,Some Not(Not Enemy),Solid.
Spikes-Medium,On Ground,Solid.
Snow(-20 C)-Freezes,On Ground,Solid.
Plot
On The House Of Terence.Terence said They Must By on Way to Antartica.But The Pigs watch Them.On the Birds Way to Antartica,They Must wear Jackets.And If They will Be There.They Must Save The Antartica.
Missions
Chapter 1:Crash Landing
Mission 1.1:Snow Drive-Our Parts Are Missing!So we need to find Them.
Mission 1.2:Cavern Terror-We Have To Find The Parts!But it has Terror.
Mission 1.3:Calling Birds-We Need Orange Bird.So We can Repair.
Mission 1.4:Underground Subway-There is More Parts That is Missing!
Mission 1.5:Digging Territories-We Have to Find Parts That was Hidden.No Entrance,Exit.
Mission 1.6:Repairing The Plane-Now.All Parts Are There.We have to Rebuild.
Chapter 2:Home To Way
Mission 2.1:The Unknown Sturcture-I Don't Know this One.Let us Enter.
Mission 2.2:Lost-We Are Lost In This.So Where is The Exit?
Mission 2.3:Tomorrow's Day-We Have to Collect Wood.Also Fire to Camp in Tents.
Mission 2.4:Early Work-We Have To Work Early!We Have less time to melt ice.
Mission 2.5:Home Finding-We Have to Explore.Where Is a Safe Place to live?
Mission 2.6:Buildcraft-We Have to Gather Strong Snow to Build.
Mission 2.7:Chilly Home-Build Our Home To Have Safety.
Note
More Chapters Soon.
If a User(Not Admin)Exept Cherylfrancis3000) Edits Or Ruins This Page,You will Be Blocked.
For Admins,You can Edit but Not To Ruin Or Else,You lose Admin.
Gallery
Ad blocker interference detected!
Wikia is a free-to-use site that makes money from advertising. We have a modified experience for viewers using ad blockers

Wikia is not accessible if you've made further modifications. Remove the custom ad blocker rule(s) and the page will load as expected.