Featured Article
This article is or has been featured in the Angry Birds Fanon Wiki.
Angry Luke
Angry Luke is the main bird in Angry Birds: Rebels. He is also one of the main birds in the real game, Angry Birds Star Wars.
Biography
Early Life 
Angry Luke's mother died when Luke was only a egg and his father (Lard Vader) he never knew until Angry Rebels. He was adopted and lived on Tatooine and his sister Angry Leia was adopted by Bail Organa on Alderran. He went with Angry Obi Wan, R2, C3-PO, Chewbaca, Han and Leia. Angry Luke never found out that Leia was his sister until Return of the birds.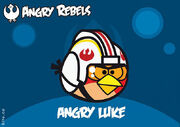 Angry Rebels
Luke is featured throughout Angry Rebels in most levels. Angry Luke is a normal Rebel until he starts training in 5-1-1 with Angry Yoda and then finds out in 6-2-8 that Lard Vader is he father.
"No Luke.. I am your Father"
"No no.....it can't be true..that's impossible!"
Darth Vader telling Angry Luke that he is his father.