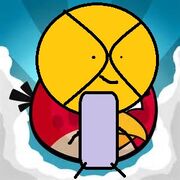 Angry Keiths Is A Rip-Off Of Angry Birds And Angry Pigs.
They MAKES A Ripp-of
Episodes
Poached Atoms
Atom Hoax
Atomhoax Above
Revenge Setup 
Hey'am H11
Dine And Mine
Keithday Party
Bad Atoms
Swim And Splash 
Keiths
Keithy Guy - Scream YEAAAAAAH And Uh-Oh..
Mariokeith1 - Scream Whaaaaaaaaaooooooo And White Bird Says Whee.
Mariokeith3 - Scream FALERIK And Moves Backwards He Said NOOOOOOO.....
Jabba Keith Green - Jabba inhales
Mariokeith2 - Scream Plarity.
AND MORE
Gallery
Ad blocker interference detected!
Wikia is a free-to-use site that makes money from advertising. We have a modified experience for viewers using ad blockers

Wikia is not accessible if you've made further modifications. Remove the custom ad blocker rule(s) and the page will load as expected.