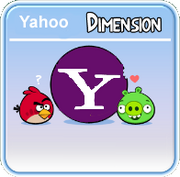 It is like Google Chrome version but better. It has power-ups! The Mighty Eagle still appears but there is a option to use Mighty Dragon too. The game was released on December 1, 2011. The game was announced on November 6, 2011.
Birds
Red - Screams
Jim Jake & Jay - Splits into three
Chuck - Speeds up
Bomb - Explodes
Matdila - Drops an egg bomb
Hal - Acts as a boomerang
Terence - Screams
Mighty (episodes only) - Defeat all pigs in a level
Mighty Dragon (episodes only) - Loops and defeat all pigs
Mighty Orange Bird-Smash all Pigs in a level
Blu - Pushing and rocking nearby blocks
Jewel - Flies straight forward
Super Red Bird - If screams by a pig, the pig will become scared. He, the Space Birds and Star Wars birds have Sling Scope.
Lightining Birds - Splits into three
Powerbomb Bird - Explodes, but in a larger radius
Monster Bird/Incredible Terence - Like Super Red Bird, but moans loudly and is strong like his original counterpart.
Lazer Bird - Accelerates straight to where you click, and he accelerates faster than his original countepart.
Icelce - Freezes any nearby material
TNT Bird - Explodes
Tyler - Changes direction when clicked
Chet-Bounces into a direction
Tony
Stella - Speeds up like Chuck
Poppy - Drills into a tornado
Luca - Screams like Terence and Red But Powerful
Skunky -Sprays
Wingman - Nothing
Chickenwing - Sprays
Willow - Spins
Dahila - Teleports
Silver
Pigs
Small Pig
Medium Pig
Large Pig
Helmet Pig
Moustache Pig
King Pig
Springy Pig
El Porkador (only in events)
Machine Boy (only in events)
Bird Pig
Mexican Pig (only in events)
Stick Pig
Matey
Pirate Vertain
Brute
Cactus Knight
Boom Pig (goes "boom" when popped)
Queen Gale/Utimate Gale (only in events)
Episodes
Poached Eggs
Mighty Hoax
Danger Above
The Big Setup
Ham Em' High
Mine and Dine
Birdday Party (95 Levels)
Wreck The Halls
Cherry Blossom
Pig Bang
Cold Cuts
Fry Me To The Moon
Summer Pignic
Easter Eggs (18 Levels & New 15 Levels)
Moon Festival
Ham O Ween
Teamwork (from Angry Birds Google+)
Green Day
Surf and Turf
Pigini Beach
Bad Piggies
Red's Migthy Feathers
Short Fuse
Tatooin Death Star Hoth & Cloud City
Utopia
Moon Of Endor & Death Star 2
Red Planet & Pig Dipper
Naboo Invansion & Escape to Tatooine
Trick or Treat
Cosmic Crystals
Battle of Naboo & Rise of the Clones
Winter Wonderham
On Finn Ice
Flock Favorites
Feathery Hills
Tropigal Paradise
New Pork City
Marie Hamtoinette
Summer Camp
Rise of the Bottom Dwellers
Mindsuckers From the Depths
Bird Island
PiggyWood Studios
A Noob Hope Birds
Hammier Things
The Birds Noobs Strike Back
Ragnahog
Angry Birds Super Noob Suits
Piggy Farm
Power-ups
Sling king (Upgrades wood slingshot to metal slingshot)
Super seeds (Upgrades bird to bigger size and more strength)
Add-it-up (Adds another bird)
Sling-scope (Shows where your bird will go)
Birdquake (Shakes ground)
Homing Bird (Shoots Missles)
Alaka Bam (Blows up)
Tnt Drop (Blows up like alaka bam)
Samba Burst( Shake Ground)
Wingman (Defeats all pigs)
Shockwave(Defeats all pigs)
Call in the Flock(Defeats All Monkeys)
New! Power Potion (Supersize your bird to a Popping Pig Giant!)
New! Chili Pepper (Use it To Any Bird)
Yahoo! dimension level locations
1 - 10: Far right
2 - 19: Up-right corner
3 - 1: Next to helmet pig
4 - 4: Under bridge
8 - 15: Behind wood squares under slingshot
9 - 7: Under slingshot
(Golden Yahoo!) 13 - 12: Bump behind slingshot
17 - 15: Treasure chest
18 - 1: Behind pink birthday cake
Episode select: Sun
Credits: Bottom
Shaman Castle For Angry birds epic
On Finn Ice Level 2: Christmas
32 - 15: so zoom out then look
20 - 11: Behind pink birthday cake
Trick or Treat Theme 4 - 5
1st Version Update
On January 23, 2012, The Yahoo! website showed a Chinese New Year sneak peek to a new version. It introduced the Mighty Dragon.
2nd Version Update
The Yahoo! website showed a sneak peek to a new version. It includes Cherry Blossom, Pig Bang, Cold Cuts, Angry Birds Volcano, Angry Birds Wonderful Pistachios, and Angry Birds Vuela Tazos. The update was availible on April 7, 2012.
3rd Version Update
On June 20, 2012, there will be a new version. It includes Angry Birds Fuji TV, Fry Me To The Moon, Easter Eggs, and Summer Pignic.
4th Version Update
On July 1, 2012, this game had a New Version. It includes Piglantis and Angry Birds Heikki.
5th Version Update
6th Version Update
all new Power Ups like Power Potion
On November 21, 2012, the game released a new version. It includes Tatooine and Death Star.
Gallery
Ad blocker interference detected!
Wikia is a free-to-use site that makes money from advertising. We have a modified experience for viewers using ad blockers

Wikia is not accessible if you've made further modifications. Remove the custom ad blocker rule(s) and the page will load as expected.