This article is part of Stark Industries™. You shall not edit this page unless you are part of the group. Neither Copying anything on this article is allowed.
Angry Sponge is about when the Angry Birds are taken to Bikini Bottom.
Thay see that Squidward helps the Pigs steal the eggs.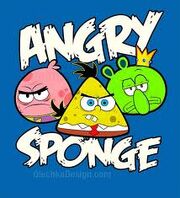 So, they save Spongebob,Patrick, and Sandy.
The Angry Birds turn them into Angry SpongeBirds.
The worlds are SpongeBob's Pineapple, Squidward's House, Krusty Krab, Chum Bucket, Mr. Krabs' Anchor, Sandy's Treedome, Patrick's Rock, & more coming soon.
Instead of Golden Eggs there will be Golden Krabby Patties
Characters
Birds:
Pigs:
Ad blocker interference detected!
Wikia is a free-to-use site that makes money from advertising. We have a modified experience for viewers using ad blockers

Wikia is not accessible if you've made further modifications. Remove the custom ad blocker rule(s) and the page will load as expected.