Angry Birds RPG: Stones of the Twelve Elements is an Angry Birds role-playing game released on November 30, 2012 for Mobile Device, the Nintendo 3DS, PlayStation 3, Wii U, and Xbox 360. It was rated Everyone 10+ by the ESRB for Mild Cartoon Violence. 
Angry Birds RPG: Stones of the Eight Elements

Developer(s)

Rovio

Publisher(s)

Rovio

Release Date

November 30, 2012

Genre

Role-playing

System(s)

Mobile device
Wii U
Xbox 360
PlayStation 3
Nintendo 3DS
PlayStation Vita

Rating

Everyone 10+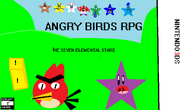 Story
Red and all the other birds are just having a relaxing day on the island. Unexpectedly, all the birds got captured in cages  the plane took them to King Pig's castle andre  all of the original 7 birds fell out and of course Red was the one who had to start the adventure then a mysterious creature named Meloetta appeared out of nowhere, she introduced herself to Red then she noticed the slingshot was destroyed. So Meloetta explained to Red about RPG battles and after that Red went on his adventure. The villain also destroyed the sanctuary where the twelve elemental stones reside. The twelve elemental stones are....
Life

Darkness

Electricity

Fire

Water

Ice

Air

Poison

Earth

Light

Undead

Magic
Places
Prolouge
Mt. Fort Awesome (hub area)
Piggy Island
Twi Lighthouse
Weapon Factory
Sky Garden
Worm Castle
Flying Ship
Plant Kingdom Road
Eternal Woods
Plant Kingdom
Plant Fortress
Piglantis
King Pig's New Castle
Dance Studio Exterior
Dance Studio
Orange Castle Road
Orange Castle
Bosses
All of the main bosses have one of the stones. However, fighting them is optional. If you don't have all of the stones, King Pig will be your temporary final boss. Ironically, he has one of the stones. If you collect all twelve stones, they will open the door to the true final boss.
 Scarecrother (Life stone)
Hammer Bro.
King Pig??? (Darkness stone)
False Birds
Queen Worm (Electricity stone)
Pichu
Ditto (Fire stone)
Shy Guy (Water stone)
Postman & Chef
Phantamanta
Pichu #2
King Peashooter (Ice stone)
King Pig (Air stone)
Meta Knight
Zombot (Poison stone)
The Wall (Earth stone)
Pichu #3
Grape Pirates (Light stone)
Pichu #4
Fred
Brainwashed Eagle
Fruit Ninjas
Pichu #5
Dr. Apple & Dr. Pear (Undead stone)
Miniboss Tower
Chapter Boss Castle
Pichu #6
Prince Pig
King Pig (Magic stone and temporary final boss)
King Orange (final boss part 1/3)
Hammer Bro. (final boss part 2/3)
Hammer Bro. & Deamon Gold Bird (final boss part 3/3)
Birds
Enemies
Female Pig
Helmet Pig
Moustache Pig
Red Quazy
Yellow Quazy
White Quazy
Wiggler
Squiggler
Flutter
Goomba
Koopa Troopa
Koopa Paratroopa
Dry Bones
Boo
Bob-omb
Y/G/P/B/LB/BLK/W/O Shy Guy
Bandit
Snifit
Fly Guy
Fat Guy
Mechakoopa
Spike
Magikoopa
Boomerang Bro.
Fire Bro.
Ice Bro.
Sledge Bro.
Sumo Bro.
Buzzy Beetle
Lakitu
Spiny
Bullet Bill
Banzai Bill
Chain Chomp
Cheep Cheep
Blooper
Dark Tiny Pig
Dark Small Pig
Dark Medium Pig
Dark Large Pig
Dark Fat Pig
Dark Female Pig
Dark Helmet Pig
Dark Moustache Pig
Dark Helmet Moustache Pig
Red Disgusting
Azy
Applow
Pink Woman
Trapple
Grapirate
Orange PVT
Orange CPL
Orange SGT
Orange LT
Orange CPT
Orange MAJ
Orange COL
Banana Guard
Trivia
the highest a bird can get to is Lv. 100
every 1000 Exp. a bird levels up
the highest a bird's stats can be is 999
the capacity of any item is x999
Ad blocker interference detected!
Wikia is a free-to-use site that makes money from advertising. We have a modified experience for viewers using ad blockers

Wikia is not accessible if you've made further modifications. Remove the custom ad blocker rule(s) and the page will load as expected.