Angry Birds IE is similar to angry birds chrome but it is different too:
Chrome Dimensions was replaced by IE Dimensions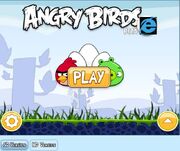 Episodes
Poached Eggs
Mighty Hoax
Danger Above
The Big setup
Mine and dine
IE Dimensions
Smuggler's den
Jungle Escape
Smuggler's Plane
Golden Beachball
Trick or Treat (Ham'oWeen if played with IE 9.0+)
Wreck The Halls
Year of the Dragon
Angry Birds Volcano
Wonderful Pistachios
Pig Bang
Cold Cuts
Cherry Blossom
Sakura Ninja
Piglantis
IE Dimesions
1 - 10: Far right
double click on the IE logo on the start screen
2 - 19: Up-right corner
3 - 1: Next to helmet pig
4 - 4: Under bridge
8 - 15: Behind wood squares under slingshot
9 - 7: Under slingshot
13 - 12: Bump behind slingshot
17 - 15: Treasure chest
18 - 1: Behind pink birthday cake
Episode select: Sun
Credits: Bottom
Angry birds volcano level 3, shoot the bird backwards
wonderful pistachios level 1, shoot all the birds without getting any pigs (NOT BACKWARDS)
Purchasable bird
The Mighty Eagle and the Mighty Dragon are available for free, but you can buy the IE Bird for $0.99
Ad blocker interference detected!
Wikia is a free-to-use site that makes money from advertising. We have a modified experience for viewers using ad blockers

Wikia is not accessible if you've made further modifications. Remove the custom ad blocker rule(s) and the page will load as expected.