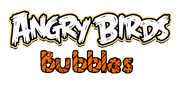 Angry Birds Bubbles is an Angry Birds game, mainly focusing on Bubbles and his friends. It was released January 26, 2016. This is the second Angry Birds game focusing on a certain bird, the first being 
Angry Birds Stella
. This game also supports the use of Telepods.
Characters
Bubbles
Diancie
Clemont
Ash
Fred
Benji
Candy Lord (boss)
Bad Piggies
Gallery
Ad blocker interference detected!
Wikia is a free-to-use site that makes money from advertising. We have a modified experience for viewers using ad blockers

Wikia is not accessible if you've made further modifications. Remove the custom ad blocker rule(s) and the page will load as expected.