Story
Characters
Birds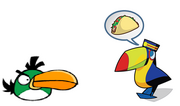 Red
Jake, Jay, Jim
Chuck
Bomb
Matilda
Al
Terence
Bubbles
Stella
Animals
All birds in Pet Town and Birdie from Early Bird.
Pigs
All pigs from Angry Birds and Porkus from MyTown: Animals.
Pokemon
Pikachu
Episodes
Power-Ups
King Sling: Normal King Sling
Pick-A-Bird: You Get To Pick An Extra Bird
Pigquake: Normal Pigquake
Pig Go Boom: Drops 10 TNT Boxes
Ad blocker interference detected!
Wikia is a free-to-use site that makes money from advertising. We have a modified experience for viewers using ad blockers

Wikia is not accessible if you've made further modifications. Remove the custom ad blocker rule(s) and the page will load as expected.