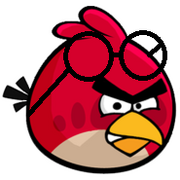 In This Story, Goggles is First Discovered On the Beach. He is Damaged Heavily, a bird finds him, and keeps him Safe. but life isnt easy for chicks! the Pigs Take him and Try to cook him, the birds are trying to save him from being eaten!
Episodes
Goggles Without Goggles: Beach Of Angry Birds Island
Chick to Go: Restaurant
A New Breed:Lab
Chick of Morn: Morning
New Arrivals: Nesting House
More Coming Soon!
Available Birds
Ad blocker interference detected!
Wikia is a free-to-use site that makes money from advertising. We have a modified experience for viewers using ad blockers

Wikia is not accessible if you've made further modifications. Remove the custom ad blocker rule(s) and the page will load as expected.