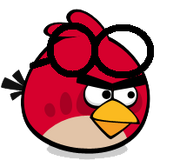 the pigs have taken some birds agian, and are ready to destroy the final King Bird,
Perry Sol
. But Goggles still has Life and is ready for some Final Slingshots, and SERVE SOME VENGENCE.
Chapters
Destiny Over Seas: Big Brother Bird Schooner
Shore Is Fresh: Beach Of Dinosaur Island
Grave Danger: Valley Of Soldjers
Wrecked For Life: Shipwreck Island Beach
Final Bird: Shipwreck Castle
Vengance Hall: Bird-Viking Cave
Return of Goggles: Angry Birds Island Beach
Pumpkin Smasher's Delight: Ham 'o' Ween Room
Fighting Alone: Shipwreck Castle Exterior
No more Goggles: Destoyed Wall of Shipwreck Island
Golden Objects: Bonus Room
Birds
Viking White Bird
Viking Black Bird
Viking Red Bird
Viking Yellow Bird
Viking Blue Bird
Pumpkin Bird
Add Any You want, Exept for Browser-based Birds, and BVZ Birds
Pigs
Small Pig
Medium Pig
Large Pig
Helmet Pig
Moustache Pig
Helmet-Moustache Pig
King Pig
Pumpkin Pig
Add More!
Ad blocker interference detected!
Wikia is a free-to-use site that makes money from advertising. We have a modified experience for viewers using ad blockers

Wikia is not accessible if you've made further modifications. Remove the custom ad blocker rule(s) and the page will load as expected.